Along the Vesuvian Coast, immersed in an area that has always been a destination for wellness, there is a city in which precious vestiges of ancient Roman civilisation coexist with the splendour of 18th-century architecture. This is Portici: a historic holiday destination for the Bourbon royal family and the Neapolitan aristocracy, today among the most densely inhabited cities in Europe.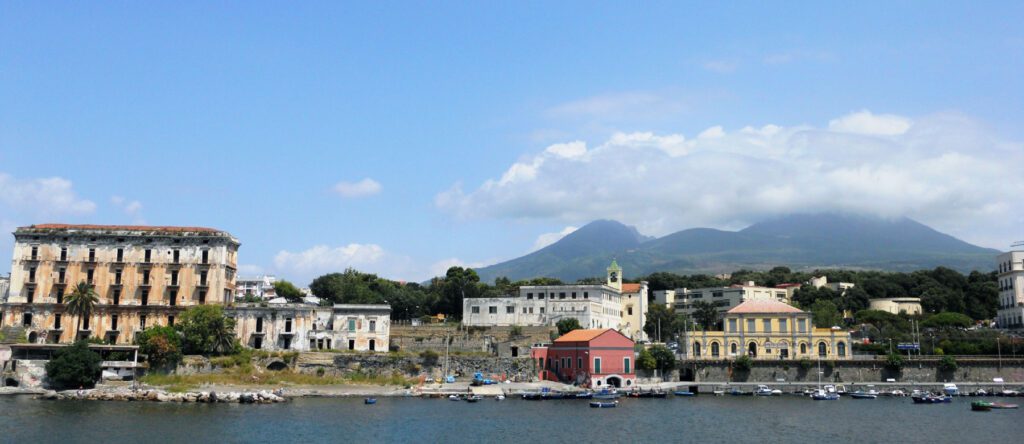 It was here, on 3 October 1839, that rail transport in Italy officially began, with the first Portici - Naples route. This event of great national importance is honoured today in the rooms of the Pietrarsa Railway Museum, where you can experience a wonderful journey through 170 years of Italian railway history, from the Bourbon Kingdom of Naples to contemporary Italy. Among the most suggestive places in Portici, there is also the old Bourbon port of Granatello: the centre of Portici and Vesuvian nightlife, with many restaurants and clubs. A walk here is a must, especially at sunset, where you can enjoy a breathtaking view of Naples and Vesuvius.
In the enchanting picture of the Granatello, in addition to the scent of the sea, the silhouette of the Villa d'Elboeuf stands out: among the most precious Vesuvian villas of the Miglio d'Oro, eighteenth-century noble residences built by great designers and architects of the time. But the real queen of the Miglio d'Oro, towering over the city, is the ancient Reggia di Portici: the residence of the Bourbons, today home to the Royal Herculaneum Museum and the Herculaneum Academy, together with the MUSA - the museum complex of the Federico II University. Many internationally renowned artists were invited here in the presence of the Bourbons, even Mozart. While visiting the Reggia, you cannot miss the Royal Wood, once the hunting ground of King Charles of Bourbon and now owned by the University of Agraria. It is the perfect place to leave the hustle and bustle of the city behind and enjoy relaxation surrounded by greenery. Inside, you will find a very rich Botanical Garden, where even an elephant is said to have stayed! You can admire rare and very old plants, along with various monuments such as the 'fort' of Ferdinand IV: a miniature fort where the king enjoyed playing as a child. Come to Portici with us and be fascinated by this Vesuvian pearl.