You cannot visit Campania without stopping at Herculaneum: a small jewel box at the foot of
Vesuvius, which preserves the memories of an ancient past.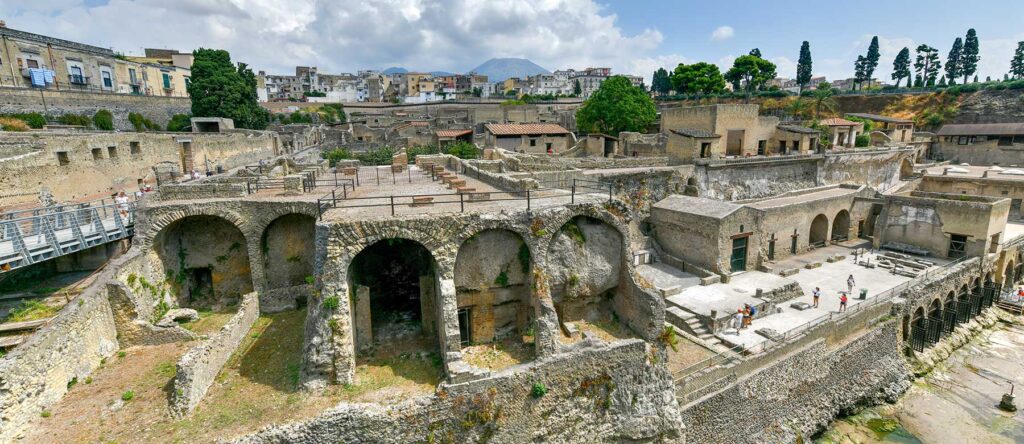 Named for the hero Hercules, who is said to have founded it in 1243 B.C., Herculaneum was one of the most popular holiday resorts for the nobles of ancient Rome, thanks to its privileged position by the sea and its mild climate all year round. Unfortunately, however, its state of grace was short-lived: in 79 A.D., with the eruption of Vesuvius, the city was completely submerged by lava and ash, and with it all the splendour of its aristocratic villas. At least until excavations began in 1700.
These showed that Herculaneum, in spite of nearby Pompeii, was particularly well preserved under the volcanic blanket. Even two-storey domus, with jewellery and furnishings, have been found, and today it is possible to visit several of the dwellings that populated the ancient city, such as the House of the Wooden Mezzanine, the House of the Relief of Telephus and the Villa of the Papyri, so called because it housed a library with over one thousand eight hundred papyri. Taking a walk among these villas, you can delve into the Roman history of that period and experience the fascinating feeling of being part of the ancient and powerful society of Rome.
If you are a history enthusiast, Herculaneum is definitely the place for you, full of archaeological sites to explore and interesting museums. Like the MAV, or Virtual archaeological Museum, which tells the story of life in the Roman cities at the foot of Vesuvius just before the powerful eruption of 79 AD. You will also be fascinated by the splendid villas of the so-called 'Miglio d'Oro' (Golden Mile), such as Villa Campolieto, Villa Aprile and Villa Favorita, built by Neapolitan nobles during the Bourbon era as a demonstration of the wealth and power of their families.
Visiting Herculaneum is like going back in history.
Set off with us to this city and enjoy a fascinating tour through the past.